Definition of 'OpenSea' - OpenSea is the world's largest marketplace for users to upload, buy or trade non-fungible tokens (NFTs) using cryptocurrencies.
What is OpenSea?
OpenSea Definition – OpenSea is the world's largest marketplace for users to upload, buy or trade non-fungible tokens (NFTs) using cryptocurrencies. NFTs are digital tokens that represent assets such as art or collectibles.
NFTs are created using smart contracts that run on blockchains, enabling OpenSea to list all of the bids, sales, and transfers associated with each NFT on the marketplace and allowing potential buyers to check the past ownership and value.
OpenSea has more than 600,000 users and has processed more than $10 billion in volume from the 2 million collections of over 80 million NFTs listed on the site. The platform's business model generates revenue from service fees. Users can create NFTs for free, but the platform charges a 2.5% fee for every transaction.
OpenSea accepts more than 150 cryptocurrencies for users to trade NFTs for a range of digital assets, including art, trading cards, music, photography, domain names, and virtual real estate.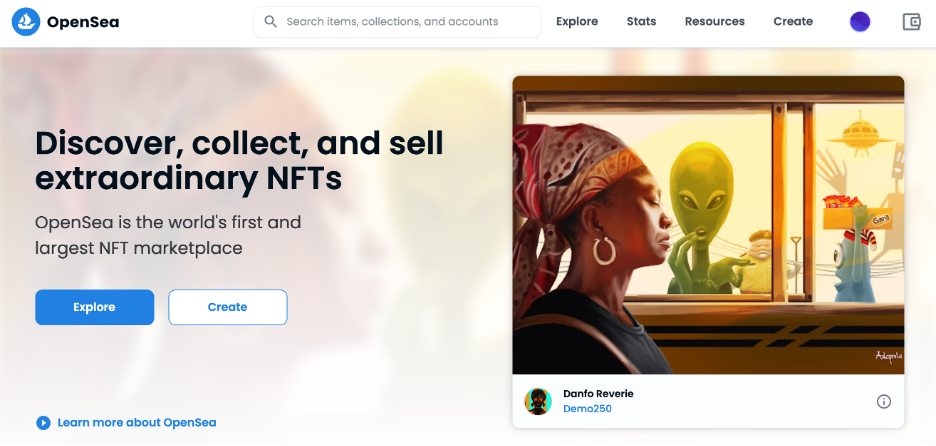 To sell NFTs, creators connect a compatible cryptocurrency wallet to the marketplace, upload the files they want to offer, and set their offer price. They can set up a sale as an auction or a fixed-price sale. To purchase NFTs, buyers connect their cryptocurrency wallets and use their tokens to set bids in an auction or accept fixed price offers.
OpenSea has raised a total of $427.2 million in financing across nine investment rounds, according to Crunchbase. The most recent Series C round for $300 million was on 4 January 2022, valuing the company at $13 billion.
Angel investors in OpenSea include billionaire entrepreneur Mark Cuban, Pinterest co-founder and CEO Ben Silberman, Reddit co-founder Alexis Ohanian, Twitch co-founder Justin Kan, Shopify founder and CEO Tobie Lütke, professional basketball player Kevin Durant, and actor Ashton Kutcher.
The history of OpenSea
OpenSea was founded in New York in 2017 by its chief executive officer (CEO) Devin Finzer and chief technology officer (CTO) Alex Atallah to serve the communities that emerged around the creation of the first NFTs, including CryptoKitties. The beta version of the platform launched in December 2017, and the full public version followed in March 2018.
The project raised a $120,000 pre-seed round from Y Combinator in January 2018, according to Crunchbase, and went on to raise $2.1 million in venture capital in May 2018 from investors, including 1confirmation, Coinbase Ventures, Blockchain Capital, and Foundation Capital.
Developers of games like CryptoKitties initially used OpenSea as a way to monetize their NFT characters. It then expanded to add more categories and allowed sellers to upload bundles of NFTs to reduce gas fees.
In December 2018, OpenSea announced it had acquired Atomic Bazaar, an Ethereum-based digital asset marketplace enabling users to trade mixed sets of NFTs in real-time. The acquisition enabled OpenSea to add new ways to exchange NFTs, including bartering items and more sophisticated order types.
In December 2020, the marketplace introduced "lazy minting", which allows NFT creators to make NFTs without having to pay gas fees, as NFTs are only transferred onto the blockchain with the first purchase or transfer. And in March 2021, OpenSea removed the need for creators to submit their NFT collections for approval.
OpenSea saw a total transaction volume of around $21 million in 2020. With NFTs taking off in early 2021, OpenSea's daily volume began to exceed that level, with Finzer reporting that the marketplace saw $95 million in sales over two days at the start of August.
OpenSea initially launched on the Ethereum blockchain and is one of the largest users of gas, or processing capacity, on the network. But with gas fees, or processing costs, on Ethereum skyrocketing with the growing number of NFT transactions, OpenSea launched a marketplace on the Polygon blockchain without transaction fees in July 2021 and added support for the Klaytn blockchain through a web browser extension wallet.
In September 2021, OpenSea launched its mobile application for browsing the marketplace, although it does not allow users to trade NFTs.
The following month, Coinbase, one of the world's largest cryptocurrency exchanges and an early OpenSea investor through Coinbase Ventures, announced plans to launch its own NFT marketplace, bringing it into competition with OpenSea.
Also, in September, Finzer stated that an employee had engaged in insider trading, buying NFTs before they were set to display on the marketplace's front page—which would typically raise prices. In response, OpenSea implemented policies to prevent employees from buying or selling from NFT creators or collections while they are being promoted, and to prohibit them from using confidential information to buy or sell any NFTs, whether or not they are available on the OpenSea marketplace.
OpenSea made its second acquisition in January 2022, purchasing smart wallet firm Dharma Labs, which provides seamless onboarding of fiat currency onto blockchains. As part of the acquisition, Dharma's co-founder and CEO Nadav Hollander joined OpenSea as its new CTO, with former CTO Atallah moving to a new externally facing role to oversee the company's NFT and third-generation Internet (Web 3) ecosystem development.
On 27 January, OpenSea imposed a 50-item limit to the free minting tool and admitted that over 80% of the NFTs created with the tool "were plagiarized works, fake collections, and spam."
OpenSea has also had to deal with bot activity and phishing attacks. In January the company reimbursed users around $1.8 million after on-chain bot activity exploited a user interface bug that enabled users to buy NFTs that had previously been listed for sale at lower prices.
On 18 February OpenSea announced an upgrade to its Ethereum smart contract so that old, inactive listings automatically expire, and bulk cancellation can be done in one low-cost transaction.
On 19 February there were reports that OpenSea had been hacked, but the OpenSea website was not affected – a phishing attack resulted in some OpenSea users having their NFTs stolen. The attacker sold more than $1b worth of NFTs. The shift to the new Wyvern smart contract is designed to implement EIP-712, which makes it much more difficult for malicious attackers to scam users.
FAQs
Is OpenSea hacked?

The OpenSea website has not been hacked, but there have been malicious bot and phishing attacks that have exploited users to gain control of their NFTs.
Is OpenSea only on Ethereum?

OpenSea initially launched on Ethereum, but has since added support for the Klaytn and Polygon blockchains to expand its user base and reduce gas fees.
Join Hashnode - the dev community of over a million active developers.
Over 100,000 tech blogs and growing. Be a part of an active community of developers, tech enthusiasts and creators. Blog on a personal domain, share ideas, and connect with the global tech community.